Orient-Orientation: Twelve Designers = Six Answers for Istanbul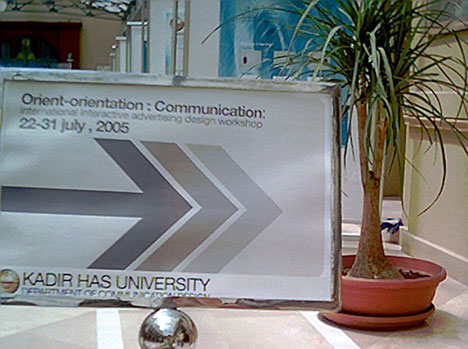 What happens when a single challenge brings together twelve designers from six different countries? Arnold van Bezooyen reports from the trenches of 'Orient-Orientation,' a 5th international design workshop addressing the needs of Istanbul's first-time visitors. 
Diary
Good morning Istanbul
Saturday morning. I wake up at 7:30am thanks to my phone—more of a travelling alarm clock during my stay in Istanbul than a communication device. The air conditioner is busted, and through the open windows, the noisy Sirkeci district is already busling. I shower and eat, and meet another participant, Sharon, in the hotel lobby by 8:00. We'll share a Turkish taxi—or taksi—to Kadir Has University, where we'll join with 10 other design students and young professionals from around the world to participate in the Orient-Orientation workshop. We're curious who will be there; the organization received over 100 applications and portfolios, judged by an international committee.
The briefing reads: "Develop a communication concept to support orientation of first time visitors through the historical city of Istanbul."

Istanbul is a city with 22,000 taxis, most switched over from petrol to clean-burning natural gas in a gesture to fight smog and pollution. I use my poor Turkish to give the driver directions (and he responds with poor English), resulting in an affirmative nod from him—an ironic start to a workshop on communication design. After 10 minutes and 3 Lira, our taxi disappears as we find ourselves standing in front of the University. In a city where bomb threats are not unusual, things are moving more slowly from here, due to security regulations.
We enter the Department of Communication Design to find Özalp, one of the local participants. For his courses at the Yildiz Technical University, Özalp crosses the Bosphorus bridge almost every day, living in the Asian, or Anatolian, side of town. It's a busy Saturday morning here, with several discussions going on; we suddenly understand that this private university is currently running presentations and promotions for its next generation of students.

The building was originally a tobacco factory built 120 years ago, but in one of the brochures lying around we read, "We want to see you in Turkey's fastest growing university" and suspect this university is not as old as we thought it was. Later on we discover that the communication design department was established only two years ago. The Kadir Has is establishing itself as an international center for research and scientific development, which is one of the reasons why students and professionals from around the world have been invited for this workshop.
Tea and cigarettes 
Tea and cigarettes pile up on the table. Workshop curator Oguzhan Ozcan (Professor at the Yildiz Technical University) arrives, welcomes us, and gets us started. After fighting with the hardware, cables, and a Turkish version of Office XP, everybody takes turns to present a five-minute introduction of themselves. Oguzhan explains that we will be working in six pairs starting tomorrow—one Turkish designer with one international designer (this will provide each team with a Turkish speaker). We are then handed the official briefing:"Develop a communication concept to support orientation of first time visitors through the historical city of Istanbul." After some rapid-fire Q&A on the brief, we learn that there will be little-to-no prototyping budget. We've got wireless internet and a library nearby to serve our information needs, but we will have to move fast; final presentations of our work will take place on Thursday, only five days away.

Arhan Kayar, initiator and main sponsor of the workshop, concludes the Saturday morning session with a crash course on Istanbul, discussing its strategic position between Europe and Asia, its history of empires, and its rich culture. Arhan is uniquely equipped for this project, having run his own international communication design agency in Istanbul for over ten years.

Istanbul, this oriental metropolis, is built on two continents, with nearly 15 million inhabitants and an equal number of tourist visitors each year; we suspect Turkey's biggest city is in serious need for some 'Orient-Orientation!'
City slickers 
Toting both digital and reflex cameras, we head to the historical marketplace, Kapali Carsi—the world's biggest roofed bazaar, with 4000 small shops—for a look and taste on the local specialties. It's a melting pot of cultures, reflected in a variety of spices, fruits and delicious sweets. From there we continue our walk towards the blue mosque, passing overwhelming architecture.

After an hour, we stop at the Sultanahmet mosque for a short refreshment at its neighboring fountain. We are invited by Arhan to one of Istanbul's aromatic tea-gardens, where smoking water-pipe and drinking apple tea brings our hectic afternoon to a traditional and peaceful close.

Starry night
The long, hot city walk has made us tired and dusty. A quick nap, followed by a cool shower does wonders, and we continue the evening program on the other side of the Golden Horn (Halic), at the Beyoglu district, where the nightlife is powered by chic bars, bistros, restaurants and clubs. Traffic is slow, and we arrive at Taksim Square to the relieved faces of the earlybirds who just heard about a local bomb attack. Peace returns after everybody arrives in one piece; no one was killed.
Slowly we walk down the Istiklal Cadessi, Beyoglu's main shopping artery, and explore some smaller sidestreets where tiny shops, crowded restaurants and music coming out from the bars create a mosaic of atmospheres. We continue to Arhan's home, where the six design teams/couples are formed. Each team will be working on one of six specified districts in the historical center of Istanbul.

After two DJ sets and some cold drinks at Arhan's, we spill back onto the streets, gazing out at a picturesque view of Istanbul, where the heavenly stars become one with the city's lights.
Start your engines 
It's Sunday morning, and we start at the Kadir Has with a short kick-off meeting. Teams start working on their own, writing down ideas, and reading up on their districts on the internet. Most of our assigned areas are located within walking distance from the university, so after a morning of reading and discussion, we decide to explore the real world; we didn't come all the way to Istanbul to read about it on the internet.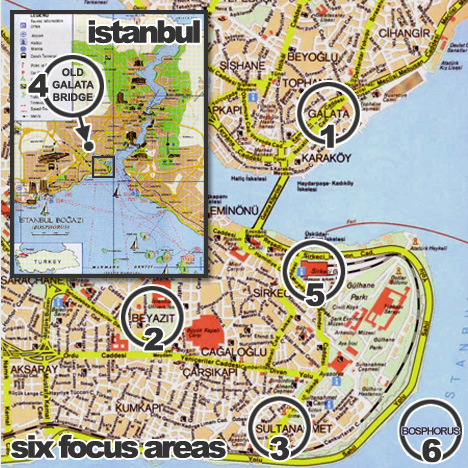 Özalp and I head to the Beyazit area, where the local street culture seems to provide us with everything we need. We check out the marketplaces, and shoot lots of pictures at the local square and Sahaflar Carsisi bookshops. Full of inspiration, we return at the University and begin our ideation session, generating more concepts than we can handle. There are only three days to go before final presentations, and we'll need to cut down our ideas to a single concept.
Three quick days; time flies
The next three days are dedicated to brainstorming, concept design, discussions and group presentations, keeping all the teams updated on each other's projects. Heavy security and administrative roadblocks prevent Özalp and me from taking pictures at the central park of the Istanbul University in Beyazit—there have been two bomb explosions within the city center during the last three days—but with some late night design work and frequent visits to the nearest restaurant Golden Fish, we seem to be on schedule.

It seems we've got one less day than we thought, since Wednesday is dedicated to preparing the final presentation for Thursday—that's tomorrow! Press people and invited friends of our Turkish partners motivate us through the final stretch; some of us take short naps on the empty tables, and between the first and last prayers sounding from the minarets, we produce the final presentation boards. Our laptops are jukeboxes; the work has got to get done.

At around 9:00am, we hear a familiar "Hellooo!" as Oguzhan enters the room. Oguzhan collects the freshly-baked CD-ROMs, which will to be printed at Arhan's agency. Everybody returns to their hotel rooms to steal some sleep before this afternoon's presentations.

Showtime 
Before we know it, we are all back at the Kadir, gazing at the six full-sized presentation boards. It's 5:00pm now, and we seem to have attracted about 40 curious visitors. It's gratifying to chat with them, sharing our insights and experiences. When the official opening reaches its climax, we raise our glasses, saying "Cheers!" and "Sherefe!" Soon we are occupied with the press, feeding their hungry microphones and noteblocks.

Projects

Project: Power of No 
District: Galata Tower (#1 on Map) 
Designers: 
Ardan Özmenoglu (Ankara,Turkey) 
Roberts Vaitkus (Riga,Letland) 

Using humor, Ardan and Roberts set their sights on first time visitors (FTV) to the Galata Tower. Subverting the notion of street signage, they created a kind of negative orientation—the 'Power of No'—by directing visitors to the Galata Tower via fifty signs, located throughout the tower's neighborhood, depicting what is not to be found there. Several of the world's most famous tower icons were employed—"NO EIFFEL," "NO PIZA," "NO BIG BEN"—on both signage as well as t-shirts, stickers, and postcards.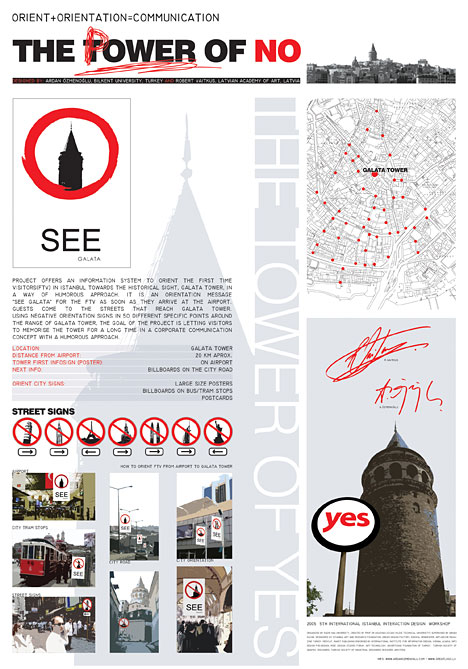 Project: Poshet Daily 
District: Beyazit region (#2 on Map) 
Designers:
Özalp Eröz (Istanbul, Turkey) 
Arnold van Bezooyen (Hamburg, Germany) 

Struck by the number of shopping bags on display in the Beyazit district, Özalp and I elected to add information, creating a new world of communication in the streets. The bags are free, distributed at shops and markets, and are site-specific—allowing the messages to be targeted to particular locations. Called 'Poshet Daily' (Poshet is Turkish for "bag"), the common bag is transformed into a daily gazette, featuring local news and advertising, employing people as the distribution network. Designed as 'ping bags' or 'smart bags,' they will also provide insight into how information "flows" through the streets of Istanbul. We'd like to hear people say: "Nerede Poshet orada Haber" ("Where there is Poshet, there is the News.")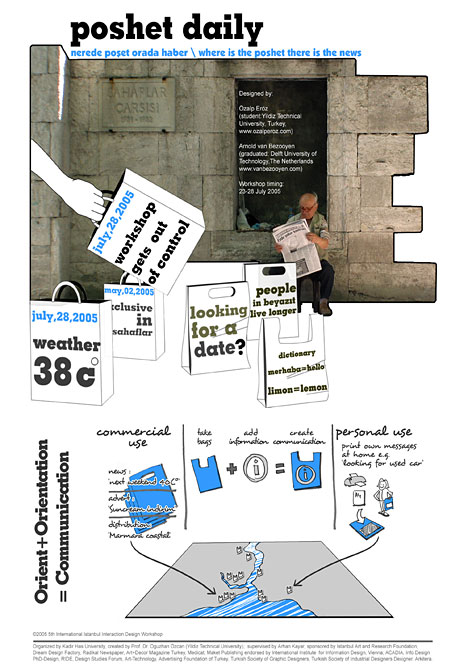 Project: Experience 
District: Sultanahmet (#3 on Map) 
Designers: 
Canalp Ürgen (Izmir, Turkey) 
Sarah Pötzelsberger (Graz, Austria) 

The Experience proposal has several components: Arriving in Istanbul, first-time visitors are contacted via a welcome message on their mobile phone, and are directed to the Sultanahmet district via street signage. At a local information café, tourists can learn about the experiences of previous visitors via a web diary, explore the neighbourhood, and then return back to the café to add their own posts for future visitors. Everything is archived, and people are able to print souvenir photos on t-shirts, magnets, and other accessories to take back home with them.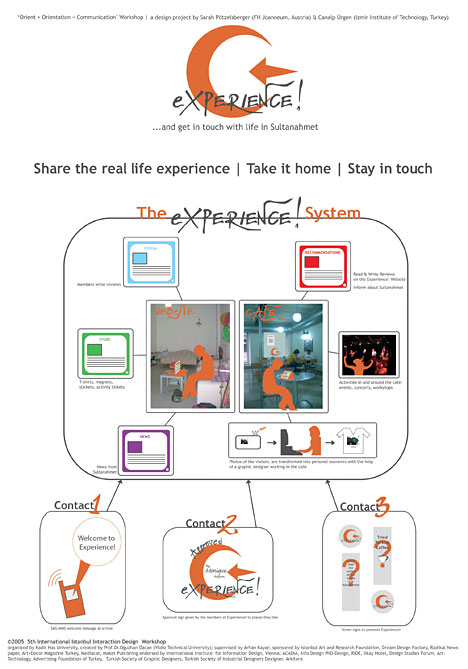 Project: IstanSOUL 
District: Old Galata Bridge (#4 on Map) 
Designers: 
Soner Özenç (Izmir, Turkey) 
Sonja Waskan (Graz, Austria) 
This conceptual projects aims to "capture the soul of Istanbul for you," referring to the different dreams—ancient and modern, secular and mystical—as well as intangible daily happenings, that form the soul of Istanbul. First-time visitors, guided by air balloons floating in the sky, are directed to spots where they can experience 360-degree panoramic views of the city. In addition, small giveaways are available, each stored in a transparent, inflated package.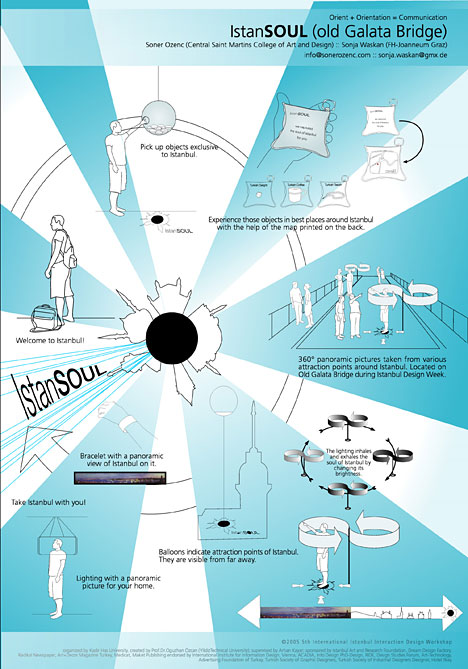 Project: LEMON 
District: Sirkeci Train Station (#5 on Map) 
Designers: 
Burcu Köken (Ankara, Turkey) 
Sharon Hsieh (Los Angeles, USA) 

Playing off the "You say lemon, I say limon," this project takes a personal approach towards intercultural communication; their concept is not so much about product, but people. The proposed "Lemon Organization," under the umbrella of a Tourism faculty at various universities, facilitates a three-day hosting of first-time visitors to Istanbul. Preselected students/guides/families meet visitors at the Sirkeci Train Station—an appropriate starting point—initiating a personal orientation to the city that benefits both host and tourist in an enriching experience.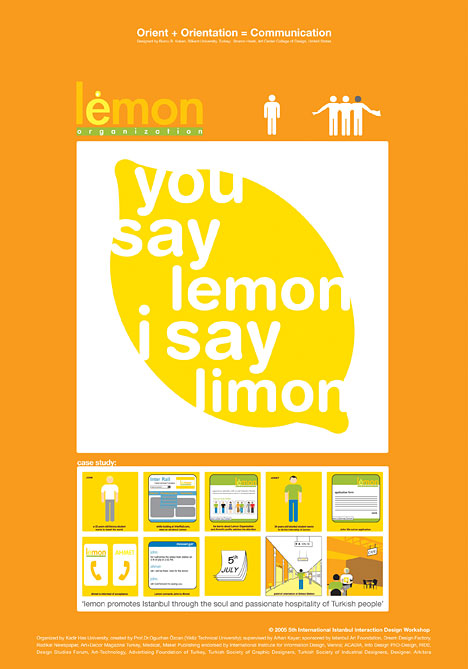 Project: BosCovery 
District: Bosphorus (#6 on Map) 
Designers: 
Özgür Önal (Izmir, Turkey) 
Ramon Schreuder (Amsterdam, Netherlands) 

The well-known Bosphorus River is the starting point for this project, proposing a game-like boat tour where passengers vote, via an onboard voting system, to determine their next stops. Upon arrival, they answer historical questions, and at the end of the trip, those who get the most right answers are awarded with small souvenirs—enhancing their experiences and helping to reinforce memories of their visit.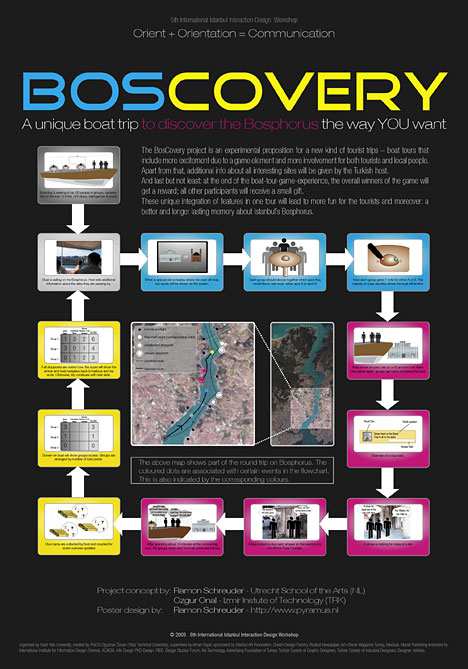 Time to say goodbye
Friday morning we gather for a final time at the Kadir Has to exchange pictures and email addresses. Following an interview with Istanbul's Showtime TV, we visit the beautiful Ortakoy, where its famous Bosphorus Bridge—reaching over to the Asian side of the city—touches its European base. Ortakoy is a busy place to beduring evenings and weekends, but during the afternoon it's very peaceful, and we enjoy the view in silence.

We officially conclude the workshop with a small toast back at Arhan's office, where everybody is occupied preparing for next month's Istanbul Design Week (considered to be the first design week of Turkey). When the elevator hits the ground floor for the last time, we rush to the streets of Beyoglu, and the night is ours to celebrate—a tasty dinner, big drinks, and big laughs await.


On Saturday, we gather at the Galata Bridge for a two-hour boattrip to the Princes' Islands off the coast of Istanbul. Motorized vehicles are prohibited on the largest island, Buyukada, so we enjoy an exploration of the coast by foot and horse-drawn carriages.

The sunset is upon us; We grab ourselves some cans of Turkish beer and sit back to enjoy the view from the seaport. When the sun disappears, we get ready to board, and after a nostalgic trip back, we return to the echoes of today's last Muslim prayer. One by one we leave the boat at Eminonu to goodbye kisses, followed by "Take care…" and "Eyvallah!" From there, we each go our own way—seemingly empty-handed, but carrying great memories.



Looking Back
Each participant in the workshop worked in her or his own way—with differing methods—but every proposal seemed to focus on Istanbul's inhabitants. This human touch was found in all of the 'Orient-Orientation' proposals, and reflected a common understanding that communication is not so much about stuff (mobile phones, ferries, or bridges), but about the people who use that stuff. It's the people themselves that connect and communicate in their own unique way—via the Poshet Daily, triggering conversations by filling the streets with small messages; or via the Lemon Organization, bringing foreign visitors together with local people; or via Boscovery, bringing people together to discuss and create their own unique boat trip. By embracing the diversity of people in our proposals, I hope we made a respectful and integrating contribution to an amazing, intercultural city.
Resources
Workshop
Website and more information: http://www.interaction-idea.info/
Location: Kadir Has University, Department of Communication Design – http://www.khas.edu.tr/
Time span: 23 – 31 July 2005
Demonstration: Projects 'Power of No' and 'Poshet Daily' during Istanbul Design Week – http://www.istanbuldesignweek.com/
Organization
Arhan Kayar & assistance (Dream Design Factory) – http://www.ddf.com.tr/
Oguzhan Özcan & assistance (Yildiz Technical University) – http://www.yildiz.edu.tr/
Participants and teams
Özalp Eröz (Istanbul/Turkey) – http://www.ozalperoz.com/
Arnold van Bezooyen (Hamburg/Germany) – http://www.vanbezooyen.com/
Ardan Özmenoglu (Ankara/Turkey) – http://www.ardanozmenoglu.com/
Roberts Vaitkus (Riga/Letland) – http://www.greatlogo.lv/
Canalp Ürgen (Izmir/Turkey) – http://www.geocities.com/canalpurgen
Sarah Pötzelsberger (Graz/Austria) – http://www.sarahpoetzelsberger.net/
Soner Özenç (Izmir/Turkey) – http://www.sonerozenc.com/
Sonja Waskan (Graz/Austria) – http://www.sonja.bmoved.at/
Burcu Köken (Ankara/Turkey) – http://www.burcukoken.com/
Sharon Hsieh (Los Angeles/USA) – http://www.sharonhsieh.com/
Özgür Önal (Izmir/Turkey) – http://www.ozguronal.com/
Ramon Schreuder (Amsterdam/Netherlands) – www.pyramus.nl
Photography by workshop participants.
Article by Arnold van Bezooyen