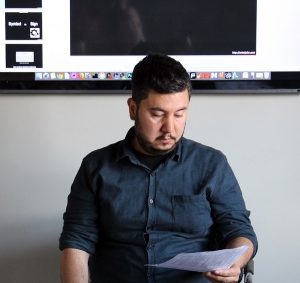 I am an interdisciplinary designer and engineer who is merging technology, design and Cultural Studies. I hold a Master of Design degree in Industrial Product Design with the thesis research in the field of "Human Centered Design" and BSc. degree in Computer Science Engineering. I have more than 10 years of engineering practice across different industries. I have lectured for the  "Information Design" course in Visual Communication Design Department of İzmir University of Economics.  Recently, I researched and studied on Archetypal Imagery,  Digital Cultural heritage and computational methods.  Currently, I give "Psychology for Game Design" course in Digital Game Design Department of Bahçeşehir University.
 Education
(2003 – 2005) Master of Design, Product Design, Izmir Institute of Technology
(1996 – 2001) Bachelor of Science, Computer Science Engineering, Dokuz Eylül University
Competencies
Interdisciplinary perspective (being trained in both engineering and design)
Strong background in user experience design and development of maps and  data visualizations
Development for Deep Learning, Natural Language processing (Pyhon, Keras, Tensorflow)
Creative coding for realtime projects in audio-visual development platforms like Touchdesigner, Processing and PureData  including Arduino  (with sensor usage)
Curriculum development for collaborative & experiential learning (including informal learning methods)
Dialogue Facilitation methodologies (Open Space Technology, World Café, appreciative inquiry, deep listening, reflection & awareness, decision making, hosting generative conversations & dialogues)
Tools of Jungian Archetypal Approach for reading Symbol language of Common Cultural heritage, Visual culture and Cultural dynamics.